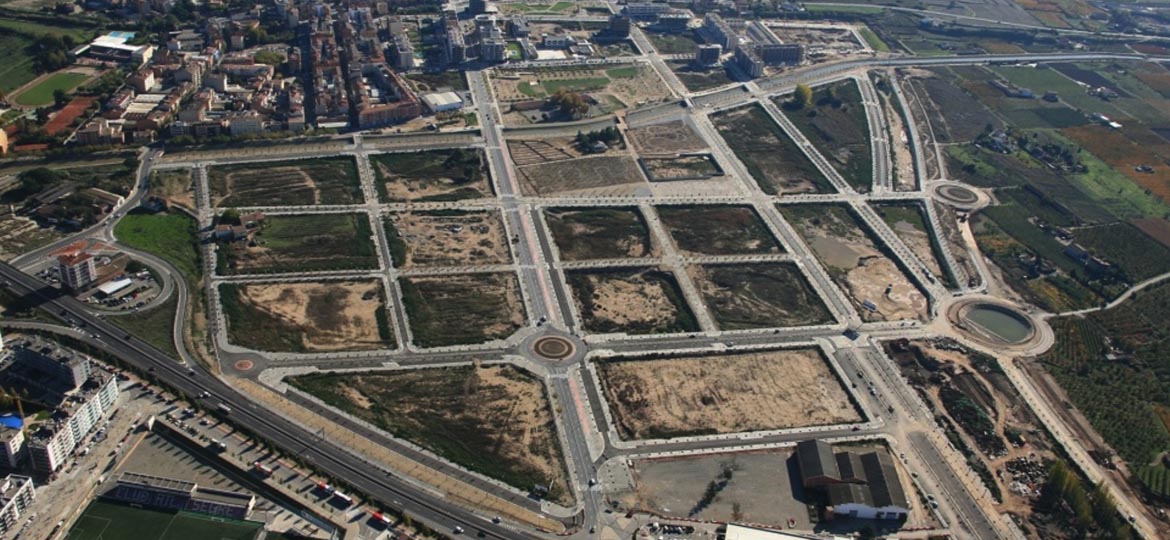 Plan Parcial SUR 5 (SOUTH 5 Partial Plan) development works in Lleida for the Copa d'Or  ]
The Copa d'Or project transformed a total of 45 hectares of former farmland into an urban area located between the N-II road and the Serós canal, thus forming an extension of the city of Lleida beyond the current Madrid-Barcelona road.
To this end, a network of wide streets (up to 38 metres in some cases) was developed for use by multi-family buildings. The project included the extension of the old road linking the city to the Bordeta suburb, turning it into a fully urban street, as well as the diversion and burial of several existing irrigation channels.
The infrastructures to be carried out included the construction of a new bridge over the Serós canal, as well as the extension of the deck of another existing bridge, two large-diameter piles under the N-II for the sewage network and the creation of a large urban park, Parque del Agua, covering almost 8 hectares.
The main scope of activity developed by the Actio team are:
Landowners Board Management
Project Management
Technical Auditing
Tendering
Contruction Management
Urban Management
Service: Project  Management
Client: Junta de Compensació Copa d´Or 
Design: Auding / Robert & Mezquita Arquitectes